Copper areas are now done!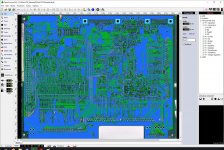 It doesn't look that much different, but it took ages to draw all those areas....
Next thing to do is the inner layers which are always fun!
It;s amazing quite how much more apple packed onto that board compared with the LC, the LC has about 850 via's on the board whereas the LC III has over 1600!