Time for another board!
I was initially intending to work on the LC II board next, however about a week ago I picked up a LC III board and started having a closer look at it, I initially expected this to be a 6 layer board and require redrawing form the schematic however the closer I looked the more it looked like a 4 layer board
So I reached for the desoldeirng gun and hot air station and spent a couple of days stripping the board, then scanned it and loaded it into sprint. I then started picking traces at random and following them, None disappeared into the board and comparing them to the schematic showed they connected to everywhere they should. My conclusion therefore was that the III is most likely only a 4 layer board.
Since I now know the III is a 4 layer board, and because I have already stripped and scanned it I'll put the II on hold for now and work on the III
So this evening I sat down and started on it, top side components have mostly been placed, I'll probably start on the tracks tomorrow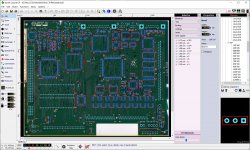 This one might take a little while, mainly because I should probably finish off the testing on the reproduction LC 1 boards before spending too much time on this one!