It's time for another one!
The LC II went much quicker than expected so it's time to start on a board I have been looking at for a while - the IIcx
The IIcx in question was actually purchased as a repair project until I noticed the board had layer marks, and to my surprise it was a 4 layer board!
We all know what that means: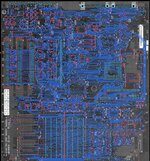 Top layer traces are done, and man this thing has a lot of traces and VIA's!
And a special thanks to
@Kai Robinson
who managed to figure out how to get sprint to load the board scans which it initially refused to (Turns out Sprint has a size limit when loading colour images which very large boards exceed, converting the image to grayscale avoids this issue)