With the (hopefully) final revision of the LC 1 board and the second revision of the LC III both with JLCPCB for manufacture it;s time to turn my attention to the LCII. This was initially going to be the second board LC board I worked on before that pesky LCIII board distracted me...
The boards I am working form where kindly donated to me by
@cheesestraws
for reverse engineering, Many thanks for that!
I haven't taken pictures of most of the process because it's more or less the same process as the previous two boards but here's when I'm at currently: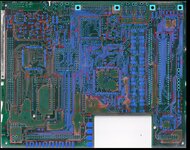 About 2/3 of the top copper is done, should only be a day or two more till this side is finished
Then it's on to the bottom side which is always fun due to the huge amount of birdseed that's always on the bottom side.....
I'll post more updates as I work on the design