Figured I'd get this one started. I've just finished up the board design for an implementation for the RaSCSI device as seen here
http://www.geocities.jp/kugimoto0715/rascsi/index.html
Schematic: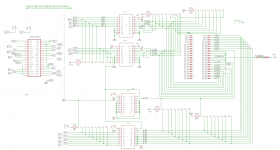 Board: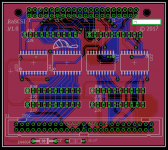 Sorry about the messed up wires on the top, had to re arrange stuff to make the board layout easier.
This design is going to use the 4 74ls641s. They run about $3 each and with everything else + pcb; $20 would be the at cost price.
If anyone's interested I'll be ordering 10 (ish) copes tomorrow. I'd probably sell for around $30ish.
The one benefit for this over the scsi2sd is that I think a raspi is more accessible and available to people than the other SCSI emulators on the market,
and that this can be updated with new GPIO updates etc, and improved in software. |)