Low End Mac claims the Apple Macintosh Quadra 630 (including variants LC 630, Performa 630, Performa 580) supports both 24 and 32 bit memory addressing modes (
https://lowendmac.com/1994/quadra-630/
). Some other sites have suggested as much.
I have tried with a number of combinations:
OSs: Mac OS 7.1.2P w/enabler, OS 7.5.5
Memory: 4 MB, 8 MB, 12 MB, 196 MB (full)
CPUs: 68LC040, 68040 full
Disks: External SCSI, internal ATA
Boards: 820-0624-A dual SIMM 067C 32F2 ROM, 820-0548-B single SIMM 067C 32F2 ROM
Good PRAM battery with PRAM reset prior to attempts
No communication, LC PDS, or video input cards
With stock Mac OS 7.1.2P w/enabler and 7.5.5, the memory control does not display the choice for 24-bit/32-bit mode (see below). The choice is unavailable regardless of whether the Quadra 630 has 4 MB (no memory SIMM), 8 MB (onboard + 4 MB SIMM), or more memory installed.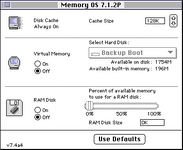 Substituting the Memory Control Panel from Macintosh OS 7.1 into OS 7.1.2P, the choice is displayed. Selecting 24-bit mode and restarting results in the computer still booting in 32-mode only, and the control panel shows the choice has automatically switched back to 32-bit.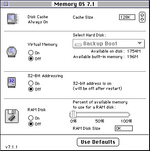 Examining the code differences (Michael Hecht's ResCompare v2.6 is incredible) between the two versions of the Memory control panel shows the addition of a subroutine in 7.1.2/7.5.5 that does not exist in 7.1. This routine looks at the ROM version to determine whether to display the memory mode choice.
As you can see below, if the ROM's major version is 0x077D then no choice is offered. Also, if the ROM's major version is 0x067C and the high byte of the minor version is 0x32, then no choice is offered.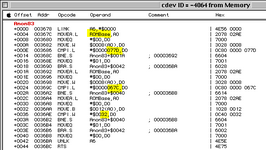 Aside: This is poor programming practice. There should be a flag/gestalt rather than relying on the ROM version. I guess they check for 'equals' not 'equals or greater than' because future ROMs might have 24-bit mode?
Looking at the list of ROM versions (
http://mess.redump.net/mess/driver_info/mac_technical_notes/
), we can see that all of the Power Macintosh computers, as well as the Quadra 660av/840av had ROM major version 077D. The Quadra 630 series, as well as the Performa/LC 580 series, have ROM version major 067C with minor versions of 32F1 and 32F2 respectively.
So, Apple's Memory Control panel specifically excludes these machines from being given a choice of switching to 24-bit addressing.
Modifying the 7.1.2P Memory control panel software (Anon83+$003D: 01->00) to exclude the ROM check simply results in the same outcome as substituting the Memory Control Panel from System 7.1. That is, you can make the 24-bit choice, reboot, and yet the machine is in 32-bit addressing.
Therefore, I conclude that the Quadra 630 is not 24-bit compatible. If anyone is able to get their Quadra/Performa/LC 630 series computer into 24-bit mode, I sure would appreciate being told how.