Hi all! I've rebooted my YouTube channel and the first video is about one of my favourite Apple laptops: the PowerBook 1400 series!
Here's a little backstory on the machines in the video:
The first, nice-condition 1400cs was purchased off eBay around five years ago for something like £4.50. It's the 166MHz model and I always liked it but felt it was severely let down by the awful active-matrix screen. I put it in its bag and forgot about it for several years until the next 1400cs came along.
That one was much more exciting. I bought it from my old place of work after first eyeing it up almost a decade ago. Inside I found some exciting upgrades.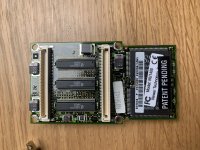 That's a NUPowr G3, video output card, and 64MB of RAM! Score!
But then I was left in an even more frustrating situation: one 1400cs in great shape and one 1400cs in less-nice condition but containing pretty much the best upgrades you can get for this model. The obvious solution? Buy a scrappy 1400c and steal the screen from it!
So a few days later one came in the post.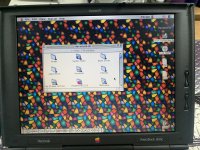 Look at those lovely colours! No awful motion blur either!
Then began the lengthy process of disassembling all three machines and selecting the best bits from each one so I could build the omega-1400. A 1400c with a G3 and maxed-out RAM. I threw in an SD-IDE adapter for good measure. Along the way I learned that the 1400c actually has a very slightly different bezel to the 1400cs – the top and bottom edges are lower down.
Now that it's all finished I have built myself an extremely nice example of a 1400c. It's about as good as you could hope for!
Up next for this machine will be a battery rebuild and a power supply recap. I hope you enjoyed the video.