[This thread is a breakout from my other thread covering two of my video cards here:
Supermac Spectrum/24 Series III and Series IV Issues
]
I'm continuing to have some issues with a SuperMac Spectrum/24 Series III card I purchased recently. This thread is to document the debugging process and to solicit thoughts from the community on other things I can try.
Problem Statement
The card is a SuperMac Spectrum/24 Series III. Upon receiving the card, it had artifact issues when acceleration is enabled and the color depth is at 24-bit. So the observations:
Card works without issues at 8bit (and lower) bit depths and whether accelerated or not accelerated.
Card works without issues at 24bit if NOT accelerated.
Card shows artifacts at 24bit if accelerated.

This is not ALL the time. Sometimes it works, sometimes it doesn't.
I had gone a week+ without a single artifact issue until a few days ago when it started again.
Pictures Showing the Artifact Issue
At 8bit accelerated, with no issues: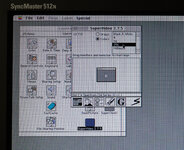 At 24bit accelerated, with artifacts: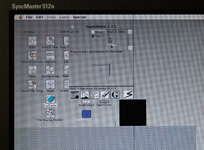 Pictures of the Card and Daughterboard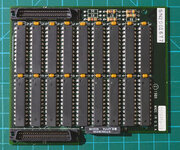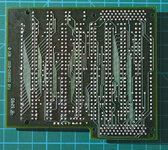 What I Have Tried
Tried on Different Computers - tested the card on a Mac IIci, a second Mac IIci, a Quadra 700, all with the same issue.
Tried Different Nubus Card Slots - did not help.
Tried Different CDEV Versions - tested using CDEV versions 2.07, 2.49, 2.74, 2.75, same issue on all of them. This card doesn't work with the 3.0+ CDEV versions.
Tried Different Monitors - tested on an Apple 13" RGB (M1297), a second Apple 13" RGB (M0401), an LCD (Samsung SyncMaster 512N), all have the same problem.
Tried Different Resolutions - tested at 640x480, 1024x768 at 60Hz, 1024x768 at 75Hz, all the same issue.
Tried Different Power Supplies - tested a stock GE PSU, two other ATX converted PSUs, no difference.
Tried Resetting the PRAM - did not help. Resetting the PRAM showed me the boot screen option for selecting the resolution/refresh rate (ie. the "Please hit the space bar" screen) but didn't resolve the issue.
Tried Holding Option Down on Boot - did not help. Again, this gives me the option at boot for choosing the resolution/refresh rate but didn't help.
Tried Upgrading the ROM - original card had ROM version 1.0. I tried ROM version 1.1 and still the same problem.
Reheated Solder Joints on Daughterboard and Daughterboard Slots on the Main Board - used a heat gun to reheat the solder joints. When I first received the card, nothing I did would get the artifacts to go away at 24 bit accelerated. After this reheating, the artifacts disappeared and the card worked for a couple days, and then the artifacts reappeared.
Reheated Solder Joints (same ones) a Second Time - after this time, the card was working for over a week. But then a few days ago the symptoms returned.
So far no luck in permanently fixing it since I still don't know the root cause of the issue.