I have had some bad luck with SuperMac cards in the last few months.
This is not to be confused with the two other recent threads I have had regarding issues with other SuperMac cards:
Now the current issue:
I received a
SuperMac Spectrum 24 PDQ
card from a member of this community. 8-bit and 24-bit color
unaccelerated
works great! When acceleration is enabled however, in 8-bit mode there is some weird dithering going on and in 24-bit mode, all portions of the screen that are being accelerated have a cyan tint.
System:
SuperMac Spectrum 24 PDQ with ROM version 1.27.
Macintosh IIci running System 7.1.1.
No control panels installed except SuperVideo v2.7.5 which is the driver for the card.
No extensions installed.
No cards in the system aside from the SuperMac Spectrum 24 PDQ.
No cache cards or accelerators.
The monitor being used is an Apple 13" RGB Monitor (Trinitron).
The cable being used is an Apple DB-15 video cable (the right one with all the proper pins).
Same exact system with onboard video or with a SuperMac Spectrum 24/III or with a SuperMac Spectrum 24/IV run perfectly fine.
The following is a picture during the boot process. The image looks
good
during boot with no issues. Ignore the dark spot on the screen, it's just the vertical refresh.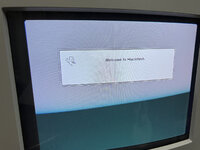 The following picture is the problem. This is
24-bit accelerated.
Notice that the menu bar is fine. Some of the icons are fine. But when redraw happens, the portion of the screen redrawn has this blue tint. Please note that there is a "Millions of color" option, it's just that it's hard to see because of the blue tint. You can see it in white text where the cursor is.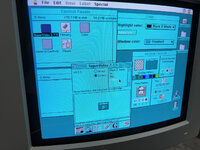 The following picture is also a problem. This is
8-bit accelerated
. Note the weird bands and dithering / dotted line pattern all over the screen.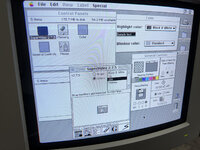 Now the following two pictures are 8-bit and 24-bit with acceleration
DISABLED
. With acceleration turned off, the picture is good with 8-bit and 24-bit.
The first is 8-bit unaccelerated.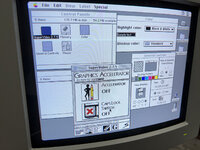 This next one is
24-bit unaccelerated.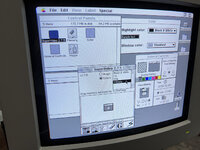 Note from the images you can see that I have minimal control panels and 0 extensions installed. I have also tried this with absolutely zero control panels installed. Same issue.
I spoke with
@MacOSMonkey
who's been helping me on the side (he's so awesome!) and have tried a few other things. I have tried multiple different System versions including:
System 6.0.5 with QuickDraw 32 v1.2.
System 6.0.8 with QuickDraw 32.
System 7.0.1.
All three of the above were fresh installs specifically for the IIci and with nothing else outside of SuperVideo installed. I have also tried SuperVideo versions:
SuperVideo 2.07
SuperVideo 2.49
SuperVideo 2.74
SuperVideo 2.75
And I have tried ROM versions:
ROM Version 1.11
ROM Version 1.27
Here are some screen shots from installs of System 6.0.8 and System 7.0.1.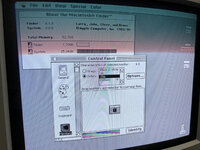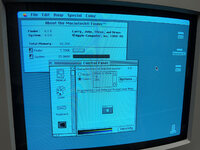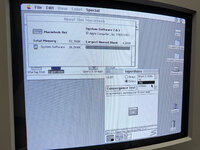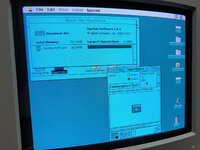 As you can see, the same issue happens across different SuperVideo versions, different System versions, different ROM versions. Anyways, I will continue debugging to try and see if I can sort through yet another SuperMac video card issue.