With my Plus PCB's something along quite nicely (And by that I mean I'm refreshing JLCPCB's order page every 4 minutes to see how production is getting on) I decided to look at what to work on next (Something that actually needs reproducing!) and settled on the LC series, battery damage is common among these models and they also happen to be my favorite form factor of classic mac
I intend to work my way through the hole pizza box LC series in time but this thread is about the LC 1
I also happened to have a board that has been sitting doing nothing for the last 6 or so years, This board to be exact: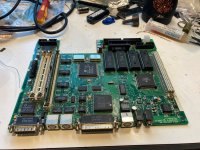 I was a little reluctant to use this board at first as it dose actually work (Or at least it did last time I used it 6 or so years ago!) but as I say it hasn't been doing anything so I might as well put it to good use. At least I will know if the repro doesn't work it is issue with my board and not the donor chips.
Step one is to strip to board of through hole components: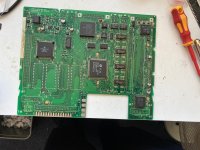 I was quite amazed at how much cap gunk was under various connectors, I thought I had cleaned the board pretty well when I recapped it!
Step 3 (coming soon!) will be stripping the surface mount components and scanning the board in.
Having examined the board fairly closely I'm pretty sure it is only 4 layers, I don't see any traces disappearing into the board however I will know this for sure once it has been scanned in.