Ok, my turn to try to rebuild the 5300 battery pack for my 5300c. I'm just starting so will provide updates in this thread as I attempt to figure things out and hopefully don't fail. I couldn't find a successful rebuild on the forum but maybe I'm not searching properly? Anyhow..
The 5300c I bought came with what appears to be an aftermarket battery from BTI.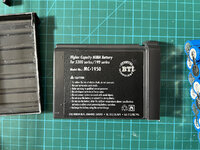 The outside enclosure is identical to the Apple one. I can't tell the capacity -- not sure if by the model number I can infer it's a 1900 or 1950 mah? But it opened pretty easily using the knife method. I just used an x-acto knife and made several passes on the center seam and it came apart pretty quickly. The case is pretty much intact so I should be able to reuse it later.
Inside I found 12 cells from Toshiba. They are NIMH cells, 1.2V each. Total 14.4V = 12 * 1.2.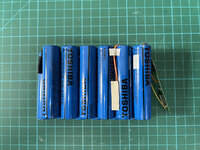 The label says these are
4/3A size cells
.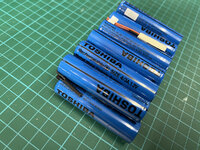 Along with the batteries, there was what appears to be an inline fuse, a thermal sensor, and a circuit board. The circuit board seems to be powered via 5V which it's drawing from the batteries.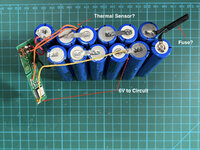 There's a wire coming from the 5th cell from the end so roughly 6V being taken to power the circuit board. And then for the 5 pins on the exterior of the battery housing, it looks like here's what they are for: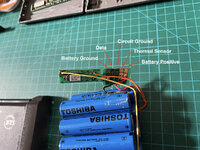 Closest to the edge is the positive end of the battery. 2nd is connected to the thermal sensor. 3rd is ground for the circuit board. 4th is Data. 5th is the negative end of the battery.
The batteries were arranged in two rows but staggered to reduce thickness.
Seems straightforward? I didn't test the fuse yet but will check whether it's intact. Hopefully the thermal sensor still works. There was a little bit of crystallization where the 5V/6V wire was attached and in one other spot but I don't see much from a corrosion standpoint. And the circuit board looks very clean.
They still sell 4/3A batteries... but wow, they are expensive. Amazon is showing them for around $8 USD for a single cell (3800mah). There's a cheaper 10 pack for $52 that are pre-tabbed. And they have a long lead time. Will have to shop around.
Will continue this after I find some suitable cells and get them delivered.