Hi folks.
Havnt been on in years.
Bought a performa 630 with monitor just for old times sake , thinking a simple recap would bring her back to life
found the PSU was blown to kingdom come
didnt try to power it on
have a look at this PSU - is there any hope in trying to rebuild this !!!!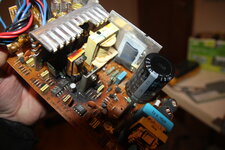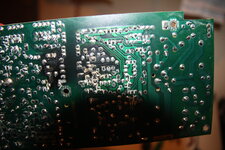 it is ....WAS .... an astec AA19300...........apple part number - 614-0037
i am decent at soldering , i can remove/ replace parts -i cant read scematics - my eyesight is shiiiiite !!!! and i cant spell for shiiiiiiite either !!!!!......... but im irish so thats OK !!!
logic board looks good - battery didnt leak - i can easily change the caps for tants - monitor works on my LC
i noticed that there were many dry solder joints around the burnt areas - they look like they formed over time........ maybey thats what led to this meltdown
i was expecting to see a blown component that would have some catastrophic failure , leading to this burning......... but i cant see it.
the transistor looks fine , as does the transformer.........i was expecting to fine a component half exploded ..... but cannot see anything like that
there is a resistor missing - i have it - it fell out as i examined the board - severe dry solder joints - 3 more components are so loose they too will fall out .........
im thinking to desolder and remove all components in this burnt area , take some more pics and post
what you rekon folks.........
cheers from paddyland
Last edited: