Finally found a IIfx (part of a Macintosh lot I lucked into and picked up over the weekend). Looks like it will need some work. I have not had a lot of time to look at it so far but some observations:
Exterior looks clean and in good shape.
Interior also looks relatively clean and the motherboard looks to be pretty good shape except:

There are two surface mounted caps (16V 47uF) that are leaking.
Few bits of corrosion but nothing very serious at least eyeballing it.

Will not power on - no activity whatsoever when you press the power button.
Little Debugging of Power Issue
Placed two working batteries in the battery holders. Multimeter showed the batteries were good - no effect.
Placed my recently rebuilt Macintosh II power supply in - no effect.
Tested the IIfx power supply in my Macintosh II - works fine so the PSU is good.
Used a multimeter to watch the voltage on the PFW pin (motherboard to PSU) and saw 0V when pressing the power button.
Either something's wrong with the switch or something's wrong on the way to that power being delivered to the PFW pin. I have not tried providing power directly to the pin to get the power supply to turn on. Didn't have time.
Hopefully get a chance to spend some more time with this next weekend.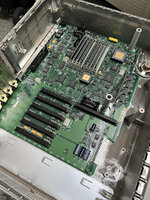 Some corrosion here: