Yesterday I was at my favorite fleamarket, the first time after almost a year. Actually was looking for SCSI cables but instead found these two fellas, two PB Titanium, with intact hinges..the seller gave them way almost for free, because they were lacking their HDDs and power adapters, so I gambled and took them anyway for 10 Euros, thinking I can swap parts to get one good machine..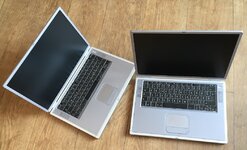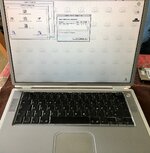 turned out they both work, a 400Mhz and a 800Mhz DVI model..nice displays and keyboards, both with an original AirPort cards in and 500MB/1GB RAM, one battery still holds a charge.
the hinges on the 800 are a bit stiff, the back has some dents but it works. I didn't have a 800Mhz model before, I thought I can swap the diplays, but the 800Mhz has a different resolution, 1280x854 against 1152x768 of the 400Mhz model. Both DVD drives work, the 800 has a DVD/CD RW Combo drive..it is quite picky about what to read, it doesnt want to boot from my trusty burnt Pismo 9.1 CD or even an original 8.5 CD.
Tried installing 9.1/9.2.2 on the 800 but only a Tiger DVD is being recognized. so I instead installed it on the 400 and swap the drives after that.
Os 9 looks so good on that machines.
Last edited: