...as soon as I can find time I'll be firing up the 'iron and joining the 'club'.
Well... it took a LOT longer than I'd hoped, but today I finally carved out time to put together one of the kits
@tashtari
sent over last month. And... after a RTF
M
T(hread) moment, ...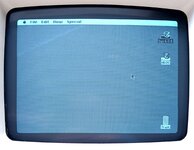 SUCCESS! That's a TT v1.0 booted up on my Plus. Super pleased and delighted to be able to join the 'club'.