I have this card, which appears to be a Spectrum 24 IV, but looks very similar to higher end cards. I was wondering if it might just be a Spectrum 24 IV ROM in a higher end card, but it also has an ASSY sticker with 0008235-0001.

Here is a closeup on the ROM, and it also has a 40MHz crystal.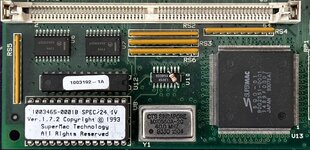 R32, R33, and C5 are not populated.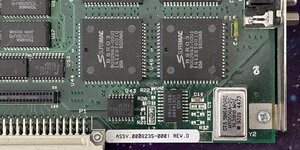 I looked up the data sheet for the ICS1494 that those components connect to, and it is an Enhanced Video Dot Clock Generator.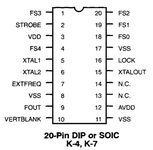 Those components don't make a whole lot of sense for an ICS1494, maybe R32 connecting to XTALOUT to VSS could be for EMI suppression? C5 and R33 are connecting to pins 13 and 14, which are NC on the ICS1494, maybe those components are intended for a different clock generator chip with a similar pinout that uses pins 13 and 14?
ROM attached. I didn't take the label off, but my TL866 programmer got an ID from the EPROM, which looks like the ID for a TMS27C512.
If I was to burn a ROM for a PDQ+ or Thunder, and put it in my card, how would I tell if it is making a difference? Should the performance be different? Any other functional changes like supported resolutions or depths?