My Centris 650 from my thread,
Entering the 68k ecosystem with a Centris 650 - what to check?
, arrived.
The machine is absolutely filthy, inside and out. I can blow out the dirt, dust, sand, etc but I am concerned about dried pool of white "something" around one of the chips.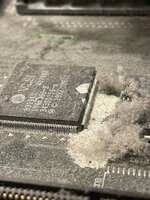 @Juror22
mentioned in
post #4
the feet of the monitor should be removed because, as he said it, "dissolving foot goo gets everywhere". I have a feeling this is dissolved "foot goo". The monitor has what looks like melted marshmallow on its underside.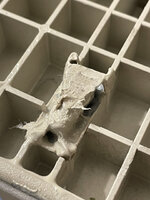 There were pieces of clear tape covering the melted feet. I removed the tape. Is it possible to clean this goo off?
You can see how dirty this machine is from the first picture. Here's a more global view.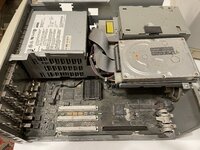 Here's a view of the RAM.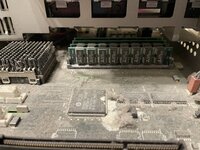 The hard drive mount is not secured to the case.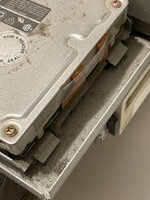 I'm actually shocked the computer worked for the listing! Maybe this is a testament to Apple's engineering?
Yes, I can disassemble the computer into its major components and blow the dust out. Assuming the foot goo is nonconductive and totally harmless, I can turn the computer on. But ... should I be aware of something first?
On a positive note, the seller did an absolutely fabulous job packing everything. Seriously! I have a feeling the seller found this in a storage unit, turned it on, was totally shocked it worked, and posted it on eBay. I can't blame him for that.
Looking for guidance from the experienced.