Have yet to see an Interware card that has GALs that are actually locked. No cracking needed, pretty sure you'll be able to just read it.
Yep: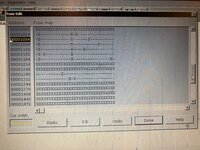 Programmed it back to another GAL and verified the card still works
One thing we have discovered about this board though is that it doesn't seem to work in the LC, it works just fine in the LC II but produces death chimes on the LC, I did try swapping the LCII ROM into the LC which stops it producing death chimes but the system never actually boots. I wonder if anyone with more low level knowledge might be able to suggest why this might be?