Spinning this one out from the 540c restoration thread to avoid going full off-topic.
Basically, one of my 1400s, the /166 unit, had two separate internal PRAM batteries and I have no clue why. Anyone know? Everywhere else I've seen and my other units have one.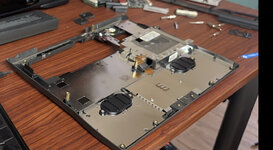 Best photo I have is a still from a time lapse I did for a yet to be released restoration video I'm working on. Clearly visible though, two bays.