I ran across a photo from Blakespot a while back and have lusted over it ever since. Doubt I'll ever be able to find a complete setup with CRT in decent enough condition to bother purchasing or to justify making room I don't really have but would like to at least live vicariously through all of you ;-) please share your best Blue and White G3 photos for me to drool over
This is what got me and it's a little grainy so I'm sure there are more recent setups to wet the appetite... there's something truly calming about the blue combo.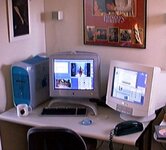 I've actually been looking on and off the the past almost year now but sad to see just how badly abused these machines tend to be. Most every thing I see is in terrible condition and it's disheartening.