Hi guys! I bought this Powerbook 165 on eBay for 10 quid last week, the seller already stated that it was broken but I liked the idea of having a project to repair a Powerbook. At the end I would like this to become a big guide so other people with similar problems will find it helpful.
So far I found these problems:
[solved] Power Adapter:  At first the Powerbook won't turn on, testing the PSU with my multimeter I found that it wasn't given the correct voltage (the correct is 7.5V), a quick recap and it was up and running! (well, up and giving power). Now the Powerbook boots but I found other problems.
Trackball: When I use the trackball it only moves the cursor vertically, disassembling it I found something interesting: When the ball is inserted on the centre of the board, due to the weight of it the wheel mechanism is slightly moved, The y-axis sensors can still capture movement but the x-axis sensors cannot, if I take away the ball and turn the wheels manually both sensors work. Maybe the x-axis sensors doesn't have enough power? I replaced the 2 transistors on the board and it still gives the same result. I tried to bend the sensors a bit but it still won't work and I don't think is the correct solution. Here are some pics to understand the mechanism:
Here is the trackball board, the x-axis sensors are on the upper-right corner
This is the trackball board with the wheels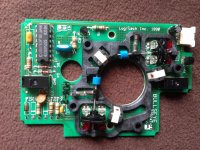 And finally a zoomed picture showing the x-axis sensors with the front wheel, it slightly move left when the ball is inserted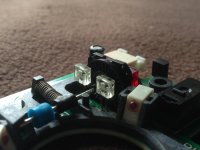 Screen: Ugly lines appear until I mess with the contrast and brightness controls, capacitor problem or irreversible?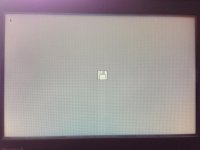 Energy distribution: This is odd, sometimes the hard drive only turns on when I turn off the screen, and sometimes the laptop shuts itself down, the PSU is giving the correct voltage.
Hard drive: Doesn't appear to detect it, does some strange sounds when it turns on.
​
Any help, and I mean ANY will be VERY appreciated, I'll be updating the list and posting solutions as we go.
Last edited by a moderator: