I have a local friend who is into tech that I met on Twitter. He's hooked me up with some cool stuff before, like a mint condition Game Boy Color. I think I modded a Game Boy DMG-01 with a backlight for him once, can't remember. Anyway, he's been saying that he has "some Apple stuff for me" at his parents house for a couple of years now. Today, he texted me - this is what I'm going to pick up tomorrow at 10 AM.
First, an Apple IIc! He says he has a working monitor for it, too!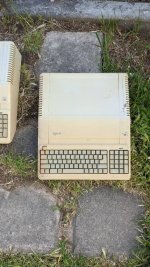 Another Apple II! This one is a IIe. The Apple II is outside of my wheel house, but I expect that both of them will be salvageable as they look to be in great shape, and I think the Apple II is pretty simple internally?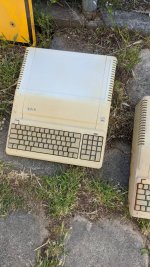 A Macintosh SE, and it's an FDHD! Please, please, PLEASE don't have a blown up battery! But... even if it does, I can possibly salvage the CRT for my Classic II, or save other parts. I don't think I've ever seen something this messy. I am a bit worried about what kind of environment they were stored in. Idaho is hot in the summer, cold in the winter, and very dry. So possibly minimum corrosion and rust, but heat... heat can't be good for batteries and caps.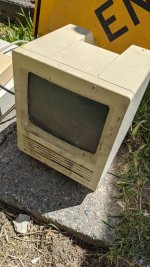 That looks like a IIsi? And check out the floppy drive! That looks like it is in mint condition! In the text messages, he says "one of the Macintosh II's is in very bad shape." I'm not sure if he's confusing the Apple II's and Mac II, or if there's more than the photos show...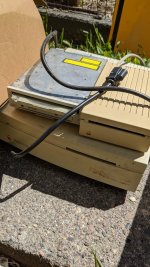 Then there's this box. I thought possibly a couple of Apple Extended Keyboard II's, but on further inspection, there's a weird ridge at the top there. Maybe PC stuff, not sure. I see some ADB cables. Is that a printer on the top? Power supplies for the Apple II's? I'm just not sure.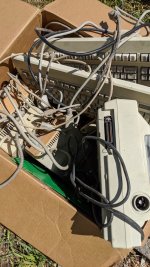 We texted back and forth a bit tonight, and he casually mentioned that he has THREE 5 1/4" drives! What!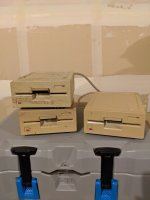 It's 10:32 PM on Saturday night... tomorrow I'll show up at this house at 10 AM to pick everything up. You know those crazy hauls that people post, and how you think "That will never happen to me?" I feel like it's happening to me right now.
I'll absolutely be reporting back!