I picked up a floppy enclosure, LCII, and Performa 476 on Craigslist! In this thread, I'll focus on the restoration of the Performa 476.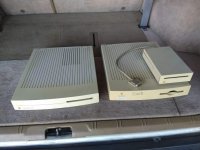 At first glance, it doesn't look it, but this thing is pretty dirty!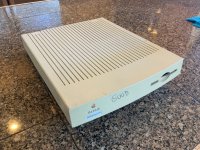 And of course, someone wrote "GOOD" on it with a Sharpie. It was good until you did that!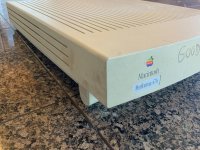 I managed to get everything apart without breaking any clips. My hope is to put it back together once, so I don't risk breaking anything more than I have to. It does appear to have the original 230 MB hard drive.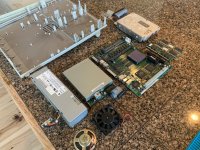 First, I want to Retrobrite the case. This will be tricky for a few reasons:
1. It's not sunny right now.
2. I'm completely out of liquid hyrdrogen peroxide... and because of Coronavirus, I want to stay home. I'm not sure that the beauty supply store would have what I need anyway, given the current situation. I do have 40 volume cream... I'll have to work with that.
I needed to get the Apple badge out (retrobrite can cause it to fade), so I drilled a tiny hole in the metal shielding to push the badge out from the back. No shot of the hole here, but here's where I made the mark.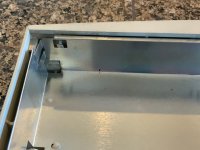 Time for cleaning! As usual: a toothbrush and dish soap are my weapons of choice.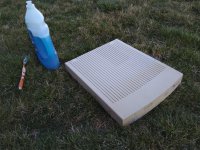 I went as far as I could with the soap before switching to alcohol to work on that Sharpie "GOOD".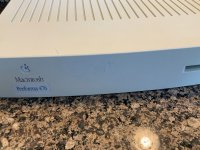 And this is where I ran into problems. Normally, I'd grab some baking soda... but guess what we're out of? No problem, I'll go to the store and... nope, can't do that either. I ended up waiting a couple of days before one of our neighbors made a run to the store and asked if we needed anything. They left baking soda in a brown paper bag on our doorstep.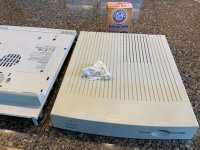 Baking soda and a wet paper towel does remove a tiny, tiny bit of texture... but it works great for black marks and Sharpies. All clean now!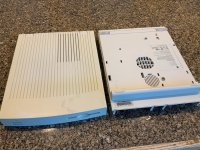 As you can see, the bottom is pretty good, but the sides and top have varying degrees of yellowing. I decided to focus on the bottom first, so I could test retrobrite methods and get the machine back together sooner, as the top isn't specifically needed for assembly.
No pictures of this part, but I first decided to do my indoor retrobrite method: a CFL UV "lizard" lamp in a cardboard box lined with tin foil, hydrogen peroxide cream, and plastic wrap. I did one 4-hour treatment, but abandoned the idea going forward for a couple of reasons:
1. We're running low on plastic wrap, and again, I can't go out to get more
2. I'm running a bit low on hydrogen peroxide cream
3. This can cause streaking if you're not careful... and I don't want to risk it
So I decided to change plans. I filled a container with hot water and added a fish tank heater that should be able to maintain 92°F. Initial temp was about 110°F. Then, I added 1.5 cups of hydrogen peroxide cream, and mixed it in with a large whisk from the kitchen. Here you can see the water without the peroxide (it looks somewhat cloudy now, but you can see through it, sorta).
On the container is a plastic lid (to avoid electrocution), and above that, the CFL UV lizard lamp.
After 2 hours, I don't see a difference, but this method is probably very "low and slow". I might move it out into the sun if we get any today.
Next, we'll recap the logic board! More on that soon.