*** Originally posted 5/31/2021, reposting due to outage. Thankfully the text was in Bing Cache. ***
The PowerBook AC Adapter (M1893) I got off eBay worked for about 2 days, at least I now know the "sold for parts" PowerBook 540c I got earlier works (and came with a 32MB RAM card!) Getting out the multimeter VMAIN was reading only 2 volts when it should be ~16 volts. VBATT was still 16 volts not that it maters since I don't have any working batteries.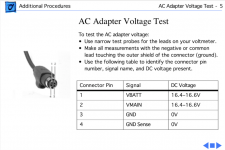 So surprise (not), it looks like the AC adapter was in need of recapping. At the same time I really want to figure out (and document) a way to power PowerBook
5xx
series without an original AC adapter, which seem to be somewhat less easy to find (and pricier) than other PB AC adapters.