So this is my first "conquest" post, though I've never really liked the term as it implies a loser is involved in a deal, but I still like the idea of sharing finds. Our very own
@ScutBoy
 hooked me with some awesome gear including ProFile drives. I finally decided to set up my Apple III after, ironically trading one to
@ScutBoy
 years ago.  He was nice enough to meet half way to help deliver the ProFiles and other parts including a Brainstorm accelerator that will be used for cloning.  Since I now have an extra one, it has given me the idea...  What kind of cool thing could be done with a ProFile?  Would it be cool to build a custom PI case, build new cases and make SSD drive housing out of them?  Let me know what you guys think.   
Excuse the extremely cluttered basement. I've been so slammed that things are just all over the place.  The ANS is also from
@ScutBoy
 from years ago. Still one of my favorite systems.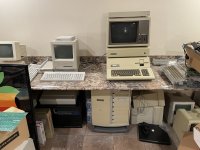 Last edited by a moderator: