Future Plans:
In the works right now are:
Quadra 630/6200/etc chassis machines. This one's very early with no finalized design. We need to pull a machine apart and get measurements internally to determine what needs to go where exactly (on a PCB. connector wise). This one's being worked on by
@blusnowkitty
 and is in very early concept stage.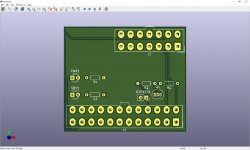 Macintosh II/IIx/IIfx. I'm working on this one and I've got some sample connectors from Molex and measurements done on how the PCB fits into the case. This one will be using a Flex ATX PSU since there's plenty of space inside the case and you might want to load up your IIfx with dual Radius Rockets and dual 24 bit Color cards and a network card. That'll draw some power. I've also got an OG II with a dead PSU - and recapping was not the solution (and I don't feel like digging into it right now). Astec problems.