Anyone have a list of caps in the IIci PSU (Astec version), or a walk-through of the process? After disassembling the PSU (a complex enough job by itself), I was surprised by the complexity inside. There are four separate PCBs and something like 30 individual caps. Many of the caps are completely covered in heat-shrink or with glue, so I can't always tell their values or even what's a capacitor vs some other type of component: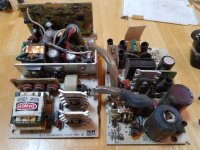 I found a thread here that discusses a IIci Astec PSU, but the photos of the internals look quite different from mine. The main PCB has a 1990 copyright date, whereas the one in my supply says 1988. So I'm not sure it will be much help.
I've never seen caps wrapped in heat-shrink tubing like this before. Any ideas what the purpose of that is - maybe insulation or vibration resistance? Any reason not to cut them all off so I can better see what's what?
What would you do if this were your computer? Try to identify specifically what's failed? Bite the bullet and try replacing everything? Search for a used PSU on eBay? Chuck the PSU and try to retrofit an ATX supply? My patience for an extended recapping project is low, which is why I was searching for an existing discussion or documentation of recapping this particular model of PSU.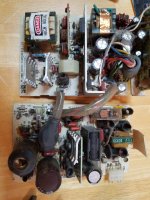 Last edited by a moderator: