This simm has been tested and seem to work fine, and even fit's in the case too!
Hmm... OT, but I wonder if there would be enough headroom to fit this onto a Colo(u)r Classic II (or LC 550 / 575) logic board...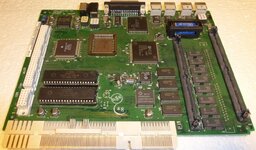 Unfortunately, the SIMM socket is vertical... and there's the matter of what's feeding that connector - is that just power, or something else?