I am overhauling an external 300 drive I picked up dirt cheap. These drives are basically re-badged Matsushita CR-563/CR-563-B. 
It has no surface mount capacitors, but it does have through-hole electrolytics. The majority of them arnt leaking but there is a couple that are. So chances are, its best to change them all. Theres only 9 of them. All different sizes though. 
But more importantly, my drive had trouble reading disks. 
Turns out, it uses a Sanyo SF-92.5 Laser pickup. these are still available today and can be had cheaply. 
So I am going to pick another one up for the overhaul. 
I figured I would let you know what laser it is. 
Keep in mind there are different versions that have slightly different cable pinous/types so gotta be careful to get the right one!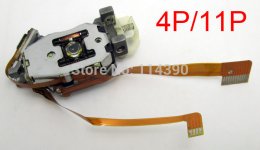 Thats the correct cable configuration! There are multiple different ones. 
Last edited by a moderator: