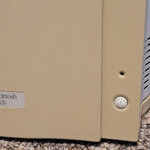 I finally finished working on the power actuator button thing for the Powermac 8500 and 9500! Been sitting on the mostly-finished model for a while now, but I recently found the gusto to polish it off. I've broken it into a few pieces to make printing a little bit easier, so in order to build it you're gonna need superglue (or some other strong adhesive).
Here's a link with more details
, or you can just download the STLs from this post.