This view posted above would have side clips outboard of the sides and top where I put the bottom side in this view, grooves re-positioned to match.
View attachment 27752
Oblique view of ski ramp SCSI2SD installation. Chassis/bottom of case and clips for bezel/backplane and grooved mating surface for clips on the bent top would be one fairly complicated module with a higher profile than the other "three" sections for things like inverted ski ramp SCSI2SD supports. Cips for the 3.5" single drive PSU and 3.5" drives would be molded into the base module. That would be held in place for the standard power plug positioned at the rear for use with standard power cord. Front and back modules would be overlapped by the clip-side-top-side-clip assembly. Bottom chassis module/front bezel module/backplane module assembly would act as jig for hair dryer bending processes.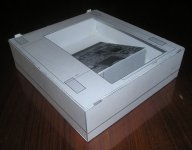 That's it for info specific to your project, I'll head back to my own sandbox now. [
]
Last edited by a moderator: