@PotatoFi

Sorry about the thread hijacking!  Sometimes, I get a bit carried away with projects.  We sent our chat to PM already.  If you do decide you need an HD SC to model, please let me know and I'll make sure that happens for you.  
On one hand... no worries. I'm stoked about the ongoing progress with the PDS cards. But on the other hand... this branch in conversation has rendered the first page of this thread unreadable. Creating a new thread to discuss that would be beneficial to everyone, I strongly encourage you guys to do that to benefit your project.
@maceffects

I actually do have an HD20SC and an HD20 (which was working as of maybe 3 years ago), either of which I could volunteer for being modeled, if anyone needs.
To both
@maceffects
 and
@CC_333
, these offers are MUCH appreciated. But rather than ship them and risk damage, what if we just started with measurements? If you have some digital calipers and are willing to spend some time getting measurements and photos of the case, that would be hugely helpful. I think that the exterior of the case would be the first priority for now. Basically all I can do right now is reference blurry photos, which are surprisingly far and few between. Here's a VERY rough first look at a model: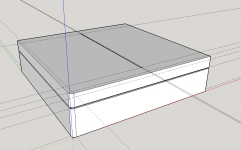 Things I'm looking for are total dimensions, dimensions of fillets around the edges, depth of grooves, width of grooves, distance between grooves, etc. Any information would be super helpful.