Crazy notion of the day: Can this cute little puppy be trained to run in reverse?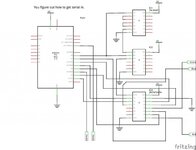 credit:
https://dqydj.com/arduino-640x480-vga/
Goal would be capturing a 640x400 60Hz VGA compatible RGB feed for outputting 8bit digital input for the Luggable's LCD? Four years ago this was a crazy multiprocessor Pi project:
Mac Portable Video: Where to tap the source?
@Gorgonops
thoughts?