I didn't announce it here, but I made the trip to New Jersey to attend today's swap meet. I came with a few hundred dollars and left with tons of fun projects! I came with just about any charger I could possibly need to test laptops as well. Here's a list of what I got, in rough order of earliest in the day to latest.
1. PowerBook 180c.
I'm pretty shocked I ran into one of these. I know they're pretty rare. It boots up to an original SCSI drive, is in pretty good condition (missing one hinge cover but otherwise great), and the screen looks super nice (besides from some passive-matrix like artifacting, clearly due to bad caps). The seller said is washes out after a few minutes, so you bet I'm recapping it ASAP. I offered $80 and took it home, along with a WORKING original charger! Before I take it apart to check, does anyone have the list of display caps I'll need to replace?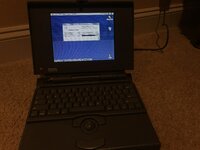 2. Dell Latitude D610.
I had been looking for one of these for a while, they're just good XP laptops. This one was just sitting there untested, so I asked if I could test it and low and behold, it POSTs! It has a bad hard drive, but other then that it's in great cosmetic condition and I'm glad to add it to my collection. I ended up paying only $10 for it.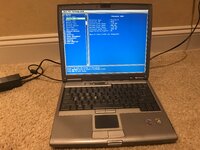 3. 2011 MacBook Pro
Right as I was testing the D610, I saw this up behind me and asked about it. The seller said it had a working battery, charger, an SSD, and 8GB of RAM. How much did he want for it? TWENTY DOLLARS. I couldn't believe it! Of course I bought it! I got it patched up to Monterey with the OpenCore Legacy Patcher, and it runs great aside from some graphical artifacting on certain menus. (Probably because the drivers are still in beta).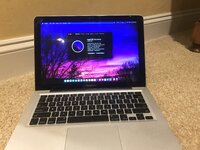 4. PowerBook 540c
I saw this one early on priced at $150. It was a bit beat up, with some cracked plastic. It was also missing both batteries and covers. However, it did boot up just fine with a working SCSI drive! I didn't want to pay quite that much though. I came back a little while later and haggled down to $100, along with convincing the seller to include the charger, which he originally wasn't going to. So, I'm now the proud owner of a slightly banged up (but functional) 540c, unobtainium charger included!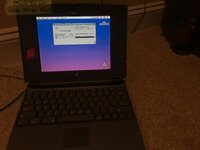 5: The free MacBook
In the free pile I saw a unibody polycarbonate MacBook just sitting there. I took it and gave it a test, and sure enough, no signs of life. Turns out the power outlet was bad! After getting it home it booted right up to the flashing folder. I opened it up, and the drive is missing. An easy enough fix should fix it! And it was FREE! It appears to be the 2009 model.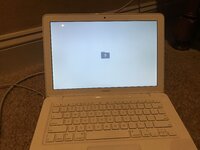 6. PowerBook 5300c
I'm a bit sad as the screen ribbon on my perfect Max RAM 5300ce broke recently, but now I'm much less sad as I've got parts now! I saw this poor PowerBook in a sad state at the booth of a guy selling Unix stuff. Unsurprisingly due to the weird barrel jack, it hadn't been tested. Luckily, I brought my charger, and low and behold, it actually works. It booted straight to System 7 with a good screen. The guy only wanted $10 for it, and I happily agreed to that. It's in poor shape. (Bad hinge, missing port door, scraped up, leaking battery, loose power jack and more), but at least it works! Now I can build a hybrid "5300c/e" with the faster processor but lower res screen.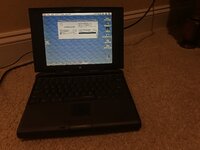 6. Power Mac G4 Graphite
I believe it's an AGP model (the original/Sawtooth). Seller said he thought it was a 400MHz. It's in decent shape, a bit scuffed up but that's fine. I haven't tested it yet, but all the parts were there and the seller said it boots. It's apparently running some version of OS X, but I don't know anything else. Asking price was $60 but I got it for $40. I'm happy to add it to my collection, and the first thing I've done so far is pull the PRAM battery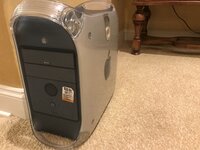 7. A healthy stack of hard drives
Some guy had a box full of hard drives, so I looked through and pulled all the IDE ones. I think I got around 10, 3 of which being laptop drives. I offered $25 and ended up paying $30 for the lot, so not a bad deal. I have no idea if any of them work though. I'm sure at least one is bad as it's an IBM Deskstar 75GXP (the original DEATHSTAR). I didn't even notice until I had gotten it home.
8. 2 ThinkPad T21s.
I was originally going to pay $30 for a lot of 2 T21s, one in good shape with Windows 2000 and Linux, and another as a parts machine, along with a few other assorted parts. However, just as I went to do one last test on the good machine before buying it, it decided it was the right time to kick the bucket and the BIOS started throwing out checksum errors and locking up. I agreed to take them both for $10 after that, and I should hopefully be able to build one working unit. The parts machine POSTs, but has a loose power jack. It should be a fun project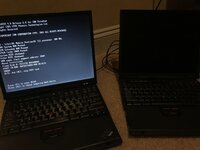 9. Dell Inspiron 9100
This is the last thing I bought, right before leaving. The 9100 is a crazy thick desktop replacement complete with a desktop Pentium 4, and all the heat that comes with it. This is a pretty good example of one, although I'm not sure of all of its specs. The seller self described it as "booting to the most junked up XP install I've seen" so I'm going to have to do a reinstall there. It came with 2 batteries, both of which are dead. I got it's monster power brick included, and it works great (installation junk aside).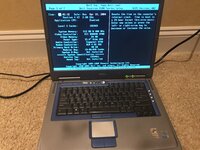 So, that's the haul! I'm extremely pleased with everything I got. The swap meet as a whole was a great experience as well! I met Steve from Mac84, Sean from Action Retro, and Mike from Mike's Mac Shack, all of whom were super nice. I'll definitely consider going back next year, and I now have a ton of project machines to work on.
Last edited: