Hello,
This is a little bit of a blog post, if this is more suited to "The Lounge", please let me know.
This is the story of my longest running Macintosh (nicknamed Pulse), which is still running 24/7 after 17 years.
Intro
A while ago, circa 2002-2003, an apple reseller gave me a dead G3/233 Desktop. When I said "dead", I mean it wouldn't boot and half of it was missing:
- Top of the case was missing
- The whisper personality card shield was missing
- Case was bent, was probably dropped 
- No RAM
- No HDD, No Optical Drive
Repair procedure
As I needed a new file server (my Performa 6400 was dying), I though it would be a good idea to repair it. The Mac was not starting, but after trying with RAM borrowed from a Pentium III and an ATX PSU, I heard the chime but the display cas scrambled.
The VRAM extension card was defective, I managed to reflow it in a kitchen oven, and put it later on my MT/300 G3 as VRAM isn't really needed on a server.
There you go, it was sort of alive again. 
I needed some sort of storage backend and decided to go with a combo of SCSI and hardware SATA RAID (SATA for OS + Files, Using old SCSI drives as backup). I was so impressed with the performance that I upgraded the CPU with a Sonnet Encore G3 500/1M (
https://everymac.com/upgrade_cards/sonnettech/encore_g3/encore_g3_500.html
). System bus was overclocked at 83 MHz (83 * 6 = 500 MHz) 
It ran for a few years on a bad ATX case stacked on a top of rack, thinking it would die a few months after. 
New Case / Rebuild
More than 10 years later (2016), being impressed that this Mac was still running, I decided to put it back together in a more clean build. The chosen case was a white cube : Corsair Carbide Air 240.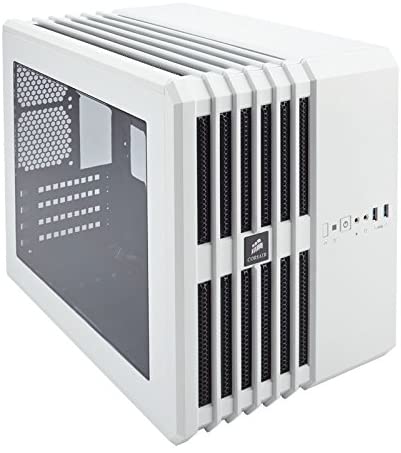 The motherboard was almost fitting without too much issues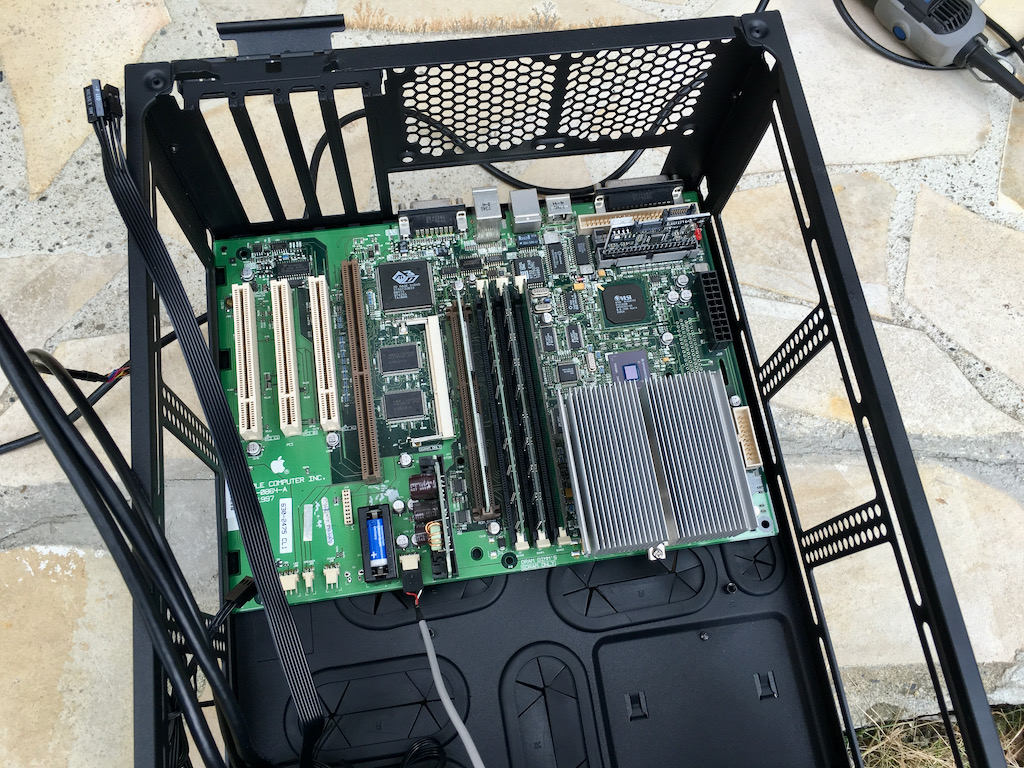 I had to cut a little bit of the backpannel to fit the SCSI Connector :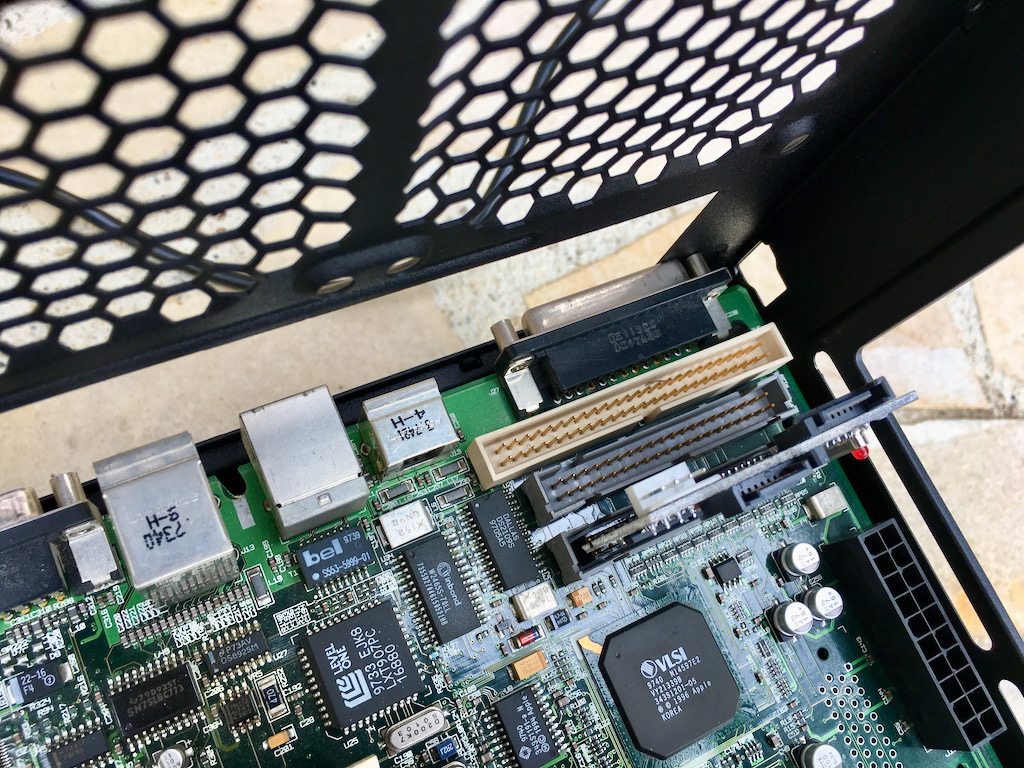 It got a new PSU for this occasion.
Current configuration
The current configuration is as follow
- MB : Apple PowerMac Gossamer Logic board
- CPU : Sonnet Encore G3 500/1M
- Bus : 83 Mhz
- RAM : 640 MB
- OS : Mac OS 8.1 (Bootstrap + Maintenance) + Linux Debian 8 (Custom Kernel)
- SCSI : Onboard SCSI (for external disks) + Adaptec PowerDomain 2940UW (flashed from a PC Card)
- SATA : Bootable Silicon Image 3112 + Hardware RAID Module (stolen from an external RAID Array)
- High end ATX PSU (don't remember which one, probably Enermax or Corsair branded)
An inside view:
- The blue led board is the hardware SATA RAID Controller
- The CPU coller comes from an Athlon XP system, with the fan removed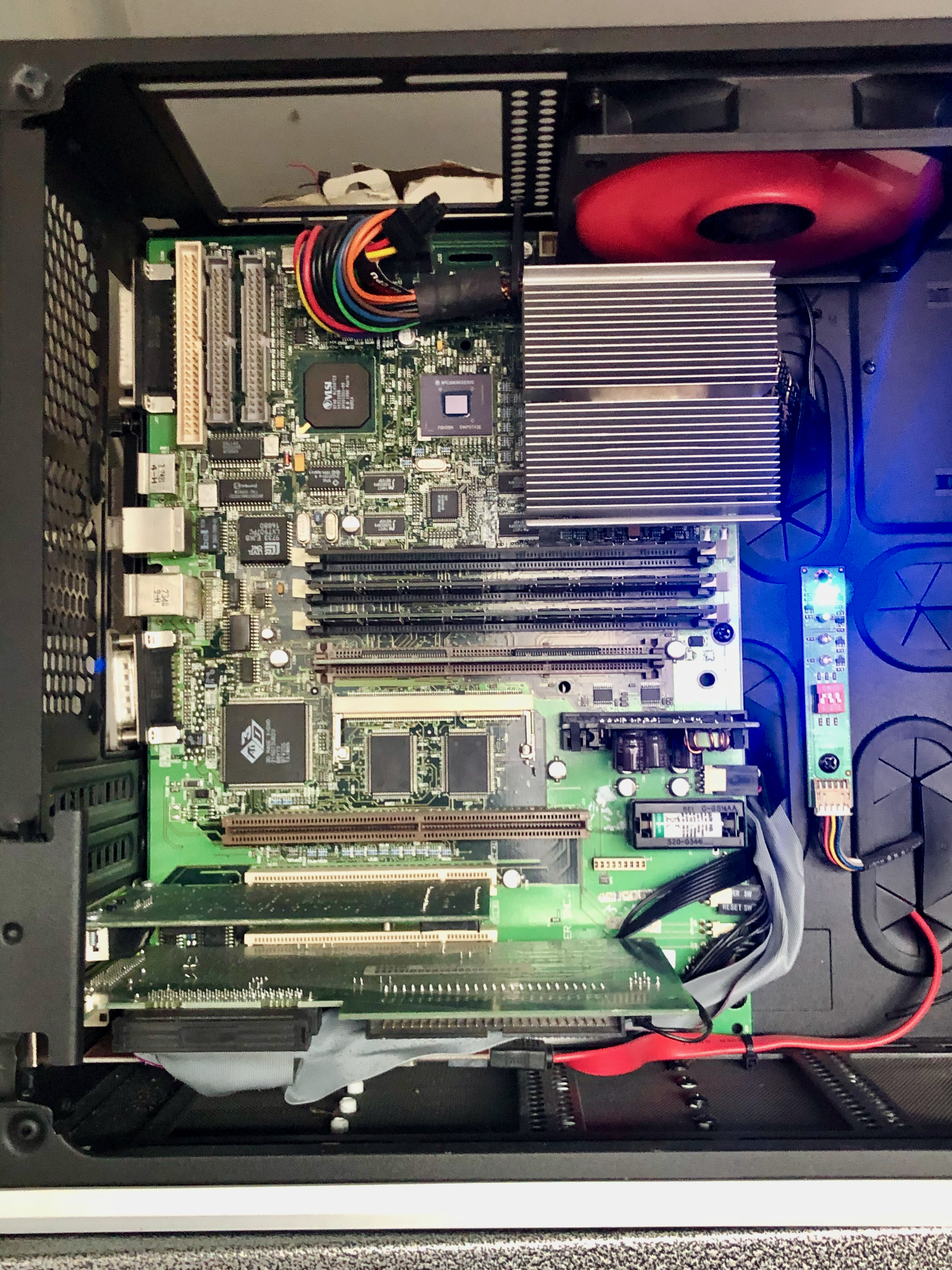 Usage
Today it's still used and has no time to sleep : It's used as a file server (Netatalk), DLNA Server (Audio), DNS cache, DHCP server, SSH Gateway and Syslog server.
It gained an Apple Logo on a front, courtesy of a broken Quadra 800 Front panel
Here is a little Linux output :
Code:
 demik@pulse  ~  cat /proc/cpuinfo 
processor	: 0
cpu		: 740/750
temperature 	: 27-29 C (uncalibrated)
clock		: 501.150000MHz
revision	: 131.2 (pvr 0008 8302)
bogomips	: 33.41
timebase	: 16707866
platform	: PowerMac
model		: Power Macintosh
machine		: Power Macintosh
motherboard	: AAPL,Gossamer MacRISC
detected as	: 48 (PowerMac G3 (Gossamer))
pmac flags	: 00000000
L2 cache	: 1024K unified pipelined-syncro-burst
pmac-generation	: OldWorld
Memory		: 640 MB
Conclusion
If I can think of a series that can continue to run on standard "PC" parts, this is the Gossamer Logic Board. Everything can be found easily even today. My PowerMac G5s are dying left and right, and I've yet to see a Gossamer logic board to fail. Sure, there is the occasional VRM cap to replace, and I need to replace the fans soon. (bearings are shot)
The PPC750 is also a very simple and stable CPU. One of the best designed CPU of it's erra. It has few bugs online modern x86 counterparts. Thats also part of why it's running on Mars since almost 10 years (
https://en.wikipedia.org/wiki/Curiosity_(rover)
)
Will keep this one up for science until the motherboard dies