I had ten Scuznet PCBs manufactured, and have purchased the parts necessary to assemble fifteen boards. The cost of the components for fifteen boards was just shy of $400, and the PCBs had an effective cost of $5 each, so I'm asking $35 per kit, shipped via first class mail (trackable), within the US. I'm not sure what it will cost to ship them internationally yet, but I'd anticipate about $10 each. I won't have all the parts in-hand for another week, probably.
This is an open source project designed by Saybur. The code and PCB layouts are available at
https://github.com/saybur/scuznet.
This is not a beginners' build. It is comprised of 91 discrete compoents, many of which are size 0603 SMT passives.
It uses an existing SCSI Ethernet driver, the
Nuvotech Nuvolink Driver
, also available
at the Compgeke Archive
Link to sayburs original scuznet development thread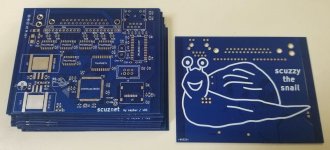 View attachment SCUZNET-BOM.ods
View attachment SCUZNET-BOM.xlsx
Last edited by a moderator: