Recap SUCCESS! Just got the chime and blinking question mark after replacing every last electrolytic in the entire system. I'll have a full writeup and reference info up on a separate thread soon.
Edit: there is a strange display problem now that wasn't there before.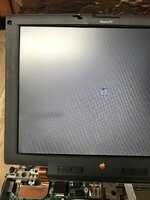 That weird smudge looking thing definitely wasn't there before. It's not where the caps were so it definitely isn't damage from the soldering iron. I also don't see how it could be an internal fingerprint on the backlight diffuser as I didn't take it apart far enough to cause that.
Last edited: