I'm sorry I keep bumping this thread, lol - this is my first accelerator, so I've been having a lot of fun trying different stuff out to see what I can find.
I did some testing Tuesday evening and yesterday and found that these drivers for the Dove MaraThon gave me an impressive(?) 2.635 in Speedometer: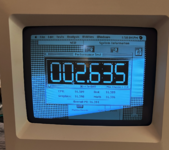 Link to these drivers:
GemStart 3.0 drivers gave me higher math scores, as well as higher scores in a few areas, but the overall score was a bit lower: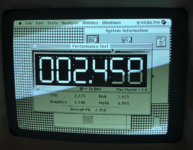 I'm uncertain if I'll ever be able to use the accelerator's RAM or be able to copy the SE's ROM into cache, but I at least wanted to document my findings here in case someone else picks up one of these cards.
I'll probably be sticking with the GemStart 3.0 drivers for now, since they give me better stability in HyperCard and have working sound, but if something changes, or if I think of something else to try, I'll give it a shot.
Last edited: