I planned to do a restoration thread like I usually do... but sadly, this one got off to a very rough start. If you have SMD recapping and pad repair, I could really use some advice! Read on...
---
I was in Portland, OR a couple of months ago to teach a class, and decided to check Craigslist for Macs while I was there. I found an ad for an SE/30 for $100 with no images and almost no description: "untested, for parts". I emailed the seller and asked for more information, but he wasn't really willing to say anything more about it, other than "it's untested, that is why it is so cheap". Based on that, I asked to come look at it, but kept my expectations in check... this one screamed "blown up PRAM battery".
When I arrived, I found that the seller was very much into vintage computing, but claimed that he just hadn't tested the machine. He was willing to pop the back cover off to check and remove the PRAM battery which I very much appreciated, so I gave him asking price for his machine. He did mention that he has a YouTube channel, which I went and found.
Here's where he received the SE/30
. It looks like it had a Micron Xceed videocard with it, which he sadly did not include with the Mac. I'm not sure why it wasn't installed in the machine, but it has the bracket that my SE/30 is missing. Here's a photo of it that I snapped in my hotel room that evening:
A few days later, I got it home and did a power-on test, here are the results.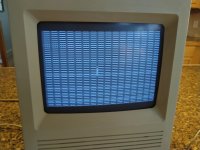 There was actually a floppy icon blinking back there, but it definitely would not boot up. I knew the caps were probably a mess, so I shut it back down, removed the logic board, and gave it a good scrub with soap, water, and a toothbrush. I chased the water out with alcohol, and left it to dry.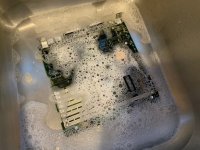 After letting it dry and trying again, I got a different pattern on the screen.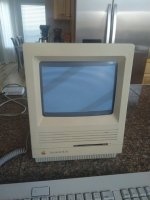 At this point, I took the obvious next step, and ordered new tantalum capacitors for the board. A friend of mine had sent me another SE/30 board to recap, so I ordered two sets of components. At this point in time, I'd already successfully recapped both an SE/30 and a Classic II for him, and now had a second SE/30 logic board to recap for him. The parts arrived, and I knocked the whole thing out in about 30 minutes. Here's one of the caps from that job. I was (key word, was) feeling VERY confident about my recapping skills at this point!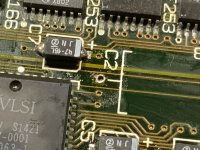 Tonight, it was finally time to recap my own SE/30 and see if it would boot! Curiously, I noticed that one of the old caps on the board was kinda crooked: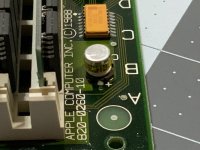 Note the mess around these capacitors. This is a bit worrisome... but the traces look okay everywhere, so we should be good, right?
I got to work, desoldering the old capacitors. Here's my usual process (
more details about how I do it are available here
):
1. Clean around the capacitor with cotton swabs and alcohol, scrubbing as much corrosion as possible from the pads
2. Hit each pad with a flux rework pen
3. Grasp the capacitor with tweezers, and heat one pad, while very gently rocking the capacitor up and away from that pad
4. Switch to the other side and do the same, going back and forth until the cap eventually is disconnected from both pads and can be lifted away.
But, luck was not on my side... I just couldn't get the pad to flow, no matter what I did. And then, disaster struck: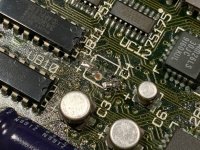 WHOA, okay, okay. Only one pad lifted and there's still continuity... I can fix this! Let's just move to another one and come back to this later...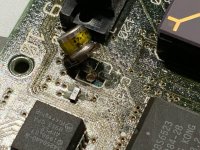 HECK'N. LIKE SERIOUS HECK HERE. I MEAN HEEEEEEEECK.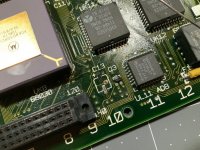 And... that's where I'm at on it tonight. Four successful, almost completely uneventful logic board recaps... and then this. I very carefully tried a couple of other capacitors (there are 8 left on the board), but I just could not get anything to flow, no matter what I tried. So I stopped before causing any more damage.
So... I need advice:
 How can I repair the two pads at C13? One pad is totally gone, and the other is barely hanging on.


Where can I buy copper to cut a new pad?

What kind of epoxy do I need to stick them back down, and where do I get it?

[*]How do I desolder the rest of the caps without causing more damage? My usual tricks just aren't working here.
[*]If I need to run wires, what kind should I use and where do I get it?
I have a typical soldering station at my disposal, I little Hakko FX-888D. If you have any advice for me... I'd love to hear it.
Last edited by a moderator: