I now have two powerbook 100, the first one has been recapped, etc, and is doing good.
The new one is currently undergoing the same repairs.
However, now that I have two, I noticed that my first one has not only a relatively rare ram expansion, but it has somekind of a "mod" that looks stock to me, that my other powerbook 100 does not have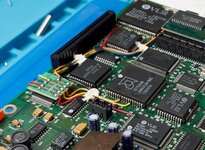 Does anyone know what this is ?
Do you have such a thing in your PB100 ? Its seems to be an "afterthought" set of pull down resistors (we can clearly see a common ground) to various signals
Does that make my PB100 special ?
Am I rich ? (just kidding)
Curious to know more
I'm trying to built the "best" PB100 possible out of my two units, and clearly this mod seems to be an aftermarket fix for god knows what (i've seen pictures of this same thing on Reddit as well - but nobody knew what it was there).
So if this fix makes the thing better, I have to replicate it or move it to my "better" unit.
For what I can see, this seems to be a rare mod (I can see a single picture of it on the entire internet) and it's too complex to not be done by Apple. Was is "stock" or was it a recall, idk.
Last edited: