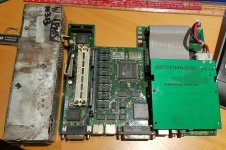 Here's my entry in the "design a custom case" bonanza! Like Trash80toHP_Mini, I'm making a case for the LC series pizza-box computers, which also includes the Performa 475 and Quadra 605. It'll be just the logic board, power supply, and SCSI2SD for main storage. No fan. No floppy drive, but there's a cut in the case for running a cable to an external Floppy Emu. Currently no built-in speaker, but I might revisit that later.
The power supply will lay flat next to the logic board, just like the Apple case. The SCSI2SD will be folded over backwards, and will lie upside-down on top of a shelf, just above the logic board (or the PDS card). The photo shows how the parts will be oriented when they're inside the case.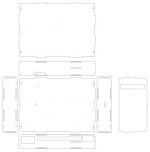 Above is the plan for the laser cut acrylic pieces. It's a six-sided box constructed with tabs and slots. Nuts and screws in the T-slots on the sides will hold it together. The piece in the center of the diagram is the bottom of the case. There are three screw holes for securing the logic board, and a square hole for a zip tie to secure the power supply. The zip tie will come up through the square hole, over the PSU, and down to the matching notch at the left edge of the bottom piece.
The piece at the bottom of the diagram is the rear panel. I didn't try to route out each port individually, though I might later. For now it's just one long opening for all the ports, as well as openings for the power plug/switch and for the PDS card's connectors.
The front piece is pretty boring, except for an odd square cutout to accommodate a screw that sticks out on the end of the power supply. One of the tab slots is also extra tall, to provide a spot for the floppy drive cable to sneak outside the case.
The piece at the far right of the diagram is the shelf. Imagine it sitting inside the case, separating the right-most interior region into lower and upper sections. The lower section houses the PDS card, and the upper section houses the (upside down) SCSI2SD. The cutout in the shelf is for the SCSI cable and 4-pin molex power connector.
I spent a lot of time with calipers, measuring everything as accurately as I could, so there's not a single millimeter wasted. Unfortunately there's still some dead space in the area behind the front piece, because the the PSU's depth is greater than the logic board's depth. You can see this in the layout photo. Maybe this dead space could be reworked to hold a small fan or 8 ohm speaker.
Did I forget anything? I hope to send this off for laser cutting tomorrow.