I think it's time for a little "worklog" kind of thread about this...
For the past year I've been working on and off with
@cheesestraws
and
@GeekDot
to dissect this SE/30 PDS videocard: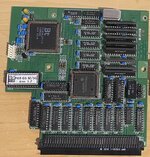 It's made by Formac and was bundled with one of their ProNitron monitors back then driving it at 1024*768 at 8bit colour.
The card is built around the TMS34061 video controller that's found on a lot of video cards from the era.
You can freely configure it with practically any counter values you want to have it produce different resolution video output signals while it conveniently also handles all the VRAM/DRAM refresh and addressing magic for you. So a perfect solution for when you don't actually know what you're doing and just want to poke around a bit
I started by reverse engineering the schematics for the card and figuring out the equations for the 5 PALs that are found on the board.
In the meantime geekdot and cheesey fiddled with disassembling the ROM to find the various places where the configuration information for the TMS34061 and the RAMDAC are stored. After a lot of trial and error I found out how to calculate the correct values to give us a compact Mac compatible resolution.
Some hardware modifications to one of the original cards later and a Molex connector taped to the back of the card I wired it up to one of my Micron XCeed CRT neck boards...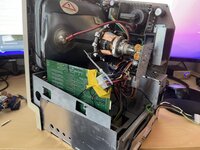 That was probable the first time ever a non-Micron card was outputting grayscale to the internal monitor..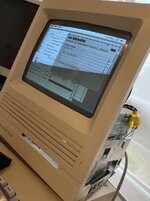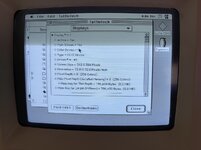 Those who pay attention might have noticed that I couldn't resist to put a little upgrade in there running the internal CRT at the 12" LC Topper resolution of 512x384
The original 512x342 resolution works just as well of course.
After knowing it's possible to do what we wanted I threw together a first attempt of a remake: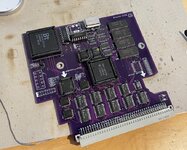 ...somehow missing a whole video data bus in the process which had to be wired in manually: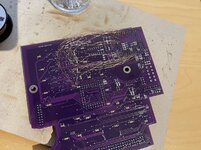 But even with that mess it's working well enough to eventually base a second revision on that.
Currently we're still struggling to get the declaration ROM and driver code to properly default to 8 bit mode, because due to some clock distribution changes I had to do to the board 1 bit mode won't function correctly. Right now the card still defaults to the 1bit mode and you have to find your way into the monitors control panel to change to 256 colours/grays to get a useable image on screen. So now it's either figuring out how to get rid of the 1bit mode all together or bend the hardware to correctly output 1bit... The race is on, whoever finishes first, geekdot or myself
PS: for those who were wondering, yes it does work together with the Turbo040 unlike the Micron XCeed for a full stack of purple awesomeness