It's been a while since I last posted anything here but I haven't given up. Far from it actually.
I've made some board mock ups, identified the old original parts (reverse engineering connectors isn't easy, plus some of those parts are old and not manufactured anymore... but I've found some alternatives). I also found footprints for all the new parts and I am currently working on updating the AC board schematic to include some filtering (I took apart the Becker, and just like Geekdot's Maxsilent unit, some components are soldered to the plug...). I'll replace those components and completely bypass the Becker's switch and plug. It has some spade/blade connectors for its board's AC input. I'll connect the new AC board (with its upcoming filtering 'circuit') to those. That way it'll be even more plug and Play!
Anyway, here are the mock ups. Those only include the 'critical' dimensions (ie where the original screw holes were, where the molex 4 pin 5556 connectors need to be in relation to the board etc... the rest of the mounting system with the screws/standoffs isn't included). Also, those aren't professional grade. They will be replaced by the Eagle board layout document. I created those parts/drawings in Catia just to test the dimensions with a 1:1 mock up and as a reference for later.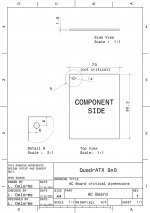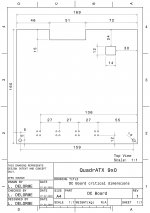 One problem I didn't expect was the height of the Becker's board... The heatsinks are massive and are almost full height. The heatsinks on Geekdot's PSU seem to be only half height. That means I've had to rethink the PSU's placement. It's going to be right next to the OG fan. That way it won't overlap with the DC board. TBH, it probably would have been fine as there's going to be a 25mm gap between the top of the Becker and the DC board but better be safe than sorry!
The Becker's casing is going to be removed obviously. The real PSU bit is where the black plastic sheet is... And although it doesn't look like it's going to fit on the picture, trust me, I've buttoned it up with all the panels and it does fit.
More to follow...
PS:
@GeekDot
 I've figured out (albeit too late) how you're supposed to remove the OG 20 pin connector and its cables... You just can't take it apart with the 20 pin plug installed, the only way is to separate each terminal from the plug individually and then slide them all the way out . What a stupid design. Thanks Delta. You've just lost a customer. I won't be calling you for my test rigs at work.