Hi my friends :lisa2:
I'm actually on a very special project here...I've got several Apple Widget Drives - all drives need some "service" and have different main issues.
There are two drives that seem to work on the technical part -they easily spin up, open their brake thing and well, they don't sound like jet turbines at all
 everything is cleaned and the brakes are already adjusted.
Thing is, Widget #01 gives me Error-Code 82 and Widget #02 Error-Code 85 on the Lisa screen. Both won't get recognized in my Lisa 2/10 (Maintosh XL ROMs by SUN). Even BLU won't see them, but if I try to access the drives for ID or LLF, the Software/Lisa is trying to 'talk' to the drives, indicated by flashing LEDs on  the Widget and I can hear the R/W head tries to move but it gives me just Error-Code E803.
So here's the story of the two main Widgets and what was done already...
Widget #01:
- everything disassembled and cleaned.
- the original data cable of the R/W head mechanism was shot... due aging the cable became brittle and was cut
- I replaced the whole orange data-flex-cable from a donor Widget, that was busted long time ago
- I worked very clean and carefully - it took me nearly 3 hours to complete disassemble, desolder 6x micro cables from the old heads and reassemble the mechanism and resolder these tiny wires and reassembling everything
- I never touched or removed the small glass platter in the "working" Widget #01
Widget #02:
- the preowner did reglue the glass platter inside the Widget
- since then it behaves the same like Widget #01
Is there a way to readjust to factory settings or so, that it could at least get recognized and maybe LLF again? Are there any instructions out there or did someone such thing before?
I thought, if I won't move the glass platter of Widget #01 it should work but in the end I came to clue moving/reassembling the head mechanism would cause the same issue like reglueing the glass itself
Fun fact: I once did nearly the same to another Widget drive ( disassembling, cleaning and checking the inside, loosened the plattern and mechanism - it got stuck and was barely movable...) and everything went smoth and without any after issues
I once had a very good written tech/service paper but I can't find it anymore - it came from a former Apple technician ...
Any advise would be great :lisa2:  I really would like to get these two drives back on the road, not just as big paperweights in my collection. 
Cheers,
Marcus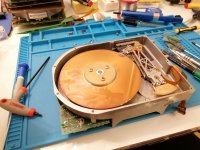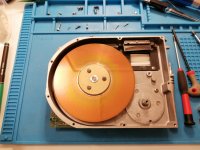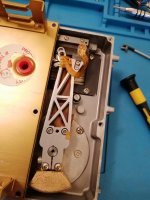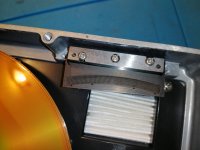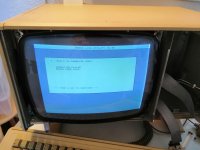 Last edited by a moderator: