I've had this for a little while, but thought I might as well post it here since I haven't shown it off much.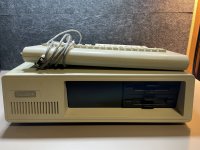 I have no idea who did this or why, but it appears someone has put an Apple ][+ motherboard inside an IBM clone case (I assume it's a clone case, but maybe all the branding has been stripped and I don't recognize the model). Though if by some miracle someone does recognize this computer, I'd love to know its story.
The keyboard obviously isn't original, and is very unusual itself with several keys that don't seem to be in their intended place (some obviously don't fit right at all) and most notably, is outside the computer!
Sorry, I'm not sure why I didn't take any pictures of the keyboard, I'll have to get it out later and do that.
I haven't been able to match the keyboard up with anything online, but it appears it wasn't designed for this purpose.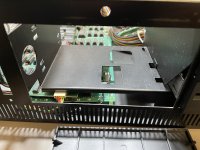 Here (garbage picture) you can see some sort of adapter board for the keyboard.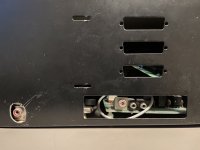 Here's the interesting part of the back side, the area where the ports have been "placed". I have no idea how they made that hole, other than terribly.
And now, the inside: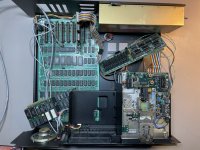 ...I think it came like this, cards all over the place. Looks fine otherwise.
Inside was a disk controller, memory expansion, 80 column card, and some sort of debug board which can apparently interrupt code, thought it was often used for cracking software. There's a button and a switch that's mounted on the front of the case for interacting with it.
Does it work though?
...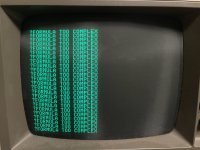 So, it mostly appears to function, but often typing basic commands gives errors like the one above or dumps you into machine language monitor. I assume there's some sort of RAM or ROM issue, I'll have to figure out what that is at some point. I've got a spare ][+ board I've acquired along with some spare EPROMs and PROMs, though I really need a programmer for them.
I played around with a bit more, and then heard a horrible sound, followed by a very large amount of smoke.
I quickly pulled the power plug and feared the worst.
While trying to figure out what was wrong, I realized it still appeared to be running throughout all that. Which means...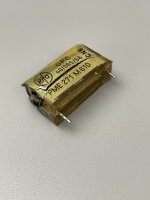 Yep. Rifa cap.
I went to a local store that seemed to have basically everything, and looked through the capacitor section: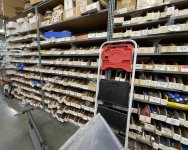 (don't mind the e-scooter down there, that thing nearly killed me and has thus been banished)
While they had a lot of capacitors, they unfortunately did not have the one I needed. I ended up getting some off eBay.
So that's where I am right now. Due to the scooter I had to put this project away, but at some point I'm going to get back to it.
I really would like to know the story behind this thing though...