Well, damn. This morning, I tripped over the power cable for the 3400c and nearly dragged the PB off the coffee table. Serves me right for trying to maneuver around furniture before my mug of coffee. However, despite that, the 3400 is OK, and so is the PSU, which I then proceeded to plug into the dead-as-a-dodo 280c, because... well, I don't really know why, it just seemed a sensibly pointless thing to do.
The very odd thing is that the 280c power light came on. This is the first sign of life of any kind it has given. I tried the reset thing, but nothing changed. Pressed the power button on the back, and the power light went out. A minute later, it chimed, but no screen. After a couple of minutes (to drink my coffee), I pressed the power button on the back again, the power light flickered, then it chimed, the screen came up, and the 280c booted.
So it sort-of lives. This is both odd and rather pleasing.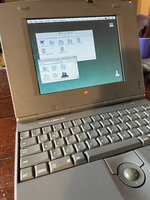 Oh my, however, what an awful keyboard!
I left it alone for 5 minutes and it put itself to sleep, including the flashing power light, but then it died again and went back to no signs of life. I know it's not the PSU because I've tried two others with the same (dead) results, and it has chimed once since then, which I will take as a challenge! I must say though that while it was running, I thought the screen was quite excellent, and I really like the tiny trackball - so much better than the trackpads that have come since.