It began, as all stories do, a long time ago. In late 1991 in fact, when I was given a PowerBook 170 by my then boss. A portable Mac, what's not to like? Except that I didn't much. I used it when I had to, but desktop Macs were my thing. This continued right the way up to, and beyond, 1997, when I bought a PB1400cs, and rather disliked it ever since.
In fact I still have it, and still dislike it. I don't really know why, but I do know that when I moved to the US in October 99, it was one thing I knew for sure I would not be taking with me. Somehow I did, and promptly forgot about until two years ago.
It was around then that I saw an eBay listing for a 145B, in pretty good working and physical condition, selling for not much at all. What, I wondered, could be wrong with just a tiny bit of grey-colored nostalgia?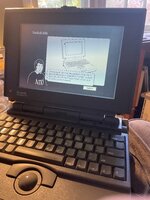 And that was just the start of the problem ...