One of my friends in my professional community is Swedish. He said he had a bunch Mac stuff for me, and said he'd bring over what he could to a conference that we both attended here in the US. That was a couple of months ago... I'm finally getting the chance to post about it now!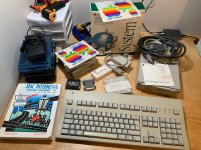 Apple Extended Keyboard II with ALPS White switches, Swedish layout.

AppleCD 150 enclosure with an NEC Multispin drive. This one appears to use CD-ROM caddies which I don't have. I think I'd like to find a slightly newer Apple CD-ROM drive for this enclosure... but I'd be interested in hearing your comments! I have exactly zero experience with CD-ROM drives in the 68k Mac ecosystem.

AAUI Ethernet Adapter. My friend @sclements has use for this, so it's going to him.

System 7 Personal Upgrade Kit. I haven't cracked the box open, but it is most likely complete! The box got a bit crunched in various bags and luggage which I feel terrible about.

Apple Stickers. I don't know that I'll ever be able to bring myself to use them!

Various SCSI cables and adapters. Needed some of these VERY badly!

The Mac Internet Tour Guide, Cruising the Internet the Easy way. This should be fun to flip through.

Microphone. Completely sealed. I'm not sure what to do with this one other than just hang onto it.

"Install me First" CD. Not sure what it is for. Sealed.

Power Macintosh 6100-8100 "Install me First" floppy disks. Sealed!

A whole bunch of Jaz and ZIP stuff. I've heard (from LGR, I think) that Jaz drives and disks were just awful. To be honest, I have no idea what to do with these.


SCSI Iomega ZIP drive

SCSI Iomega Jaz drive

USB Iomega ZIP drive

2.5" internal Iomega Jaz drive in a 5.25" bay adapter

2.5" internal Iomega ZIP drive in a 5.25" bay adapter

The one that I'm the most excited about is the AppleCD drive. Would love to hear thoughts on what I should do with it, but I think it would be a very nice compliment to my newly acquired SE/30.