For a guy who tells people he's downsizing his collection, I sure came back with a lot of stuff this weekend!
Saw an ad post on the Eugene, Oregon Craigslist for an Apple IIe system. Made arrangements and headed north on Friday and broke up the 630+ mile round-trip with an overnight layover to visit my son in Ashland, and then another overnight layover to visit friends in Grants Pass on the way back down Saturday.
On the way I hit up some thrift stores and craigslist to make the trip even more worthwhile. Quite a haul!
Apple IIe system with Monitor II, 2x Disk II drives, and several peripheral / controller cards
Apple MacBook Pro Late 2009
Compaq FS7600 17" Flat CRT monitor
Box of 3M 5-1/4" floppy disks
(2) Tandy 5-1/4" floppy disk cases (w/ misc PC floppies inside)
Disk Notcher (!)
CompuTutor - Apple IIe Using Visicalc VHS
MacAlly iKey "Frosted Ice" keyboard
Books: "Hello World: Computer Programming for Kids...", "Color 2" (graphic design color theming book), and "Look Inside: How Computer Computers Work" kids picture-flap book
Mitsubishi Component System w/ Power Amplifier, AV Preamplifier, Dual-Cassette and CD player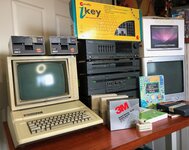 Last edited: