Just pulled out my PB180c to finally get around to fixing the plastic, and recapping the display, only to find out the display now has a few horizontal lines across it. 
Pulled the LCD completely apart to find out that one of the flat flex ribbons which has a driver IC on it, has gotten cap-goo inside the ribbon itself, corroding the copper traces coming out of the IC to the display. 
Basically rendering the display completely useless, garbage (without a new ribbon which is bonded anyway), with the only replacements being in the 100+ dollar range, basically totaling the machine. 
This is just a warning reminder to check, clean and recap your LCDs! 
Because if any cap goo gets inside the flat flex ribbon and starts to delaminate and corrode its internal copper, its junk, equivalent to having a cracked LCD at that point.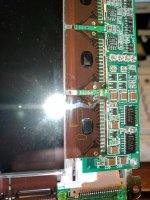 Last edited by a moderator: